MEDIA
HUFFPOST Live
Read entire article and watch the video at Huffington Post – click here
TEDx-Orlando
This video was filmed at an independently organized TEDx event and uploaded by the organizers. If you enjoyed this video, please let the organizers know by emailing TEDx Orlando.
Interview with PBSVideo
Radio Interview with Better Worldians Radio – November 2013

IN PRINT
Powerful Film on Hunger Produced by Wilton Woman Screens at Library Sunday
by Heaver Borden Herve – November 7, 2014
…Wilton Library will offer a screening of an important documentary on hunger and poverty called Every Three Seconds. One of the film's executive producers, Jeanne Robertson, is a Wilton resident, and she says that it's a film that carries a very important message. READ MORE…
Fighting Hunger & Poverty
by Kirsten Harrington – November 6, 2014
For 25 years, Sheri Heitker Dixon and Mark Dixon of Cypress Landing have worked behind the scenes…The couple recently stepped into the spotlight at the Global Peace Film Festival… READ MORE…
Library screens town-supported documentary on ending hunger
by Kendra Baker – November 4, 2014
"We're all socialized … in the U.S. to feel really hopeless about those issues and feel like there really can't be a solution and it's too overwhelmingly negative and not solvable," said Mr. Karslake, who admitted that he used to be one of those people. "So the biggest challenge as a filmmaker was figuring out a way to make a film about that in a way that makes people want to see it instead of avoid it." READ MORE…
Filmmaker Challenges Society To End World Hunger In Latest Documentary
October 16, 2014
Every 3.6 seconds, someone dies of starvation, according to UNICEF. But with the resources and technology currently available, it doesn't have to be that way. Filmmaker Daniel Karslake's latest documentary, "Every Three Seconds", drives home that exact message as he shares this grim statistic and follows up with stories of five people who have made simple decisions in their lives to help change it.READ MORE…
"Every three seconds" busca motivar a ayudar por un mundo mejor
21 de Octubre de 2014
El director Daniel Karslake afirmó que la película "Every three seconds" busca motivar a la gente a ayudar a los necesitados, después de enterarse que cada tres segundos una persona muere en el mundo a causa de pobreza o hambruna. READ MORE…
Huffington Post
'Every Three Seconds' Someone Dies Of Hunger, This Documentary Hopes To Change That
By Antonia Blumberg, October 13, 2014
One person dies of starvation every 3.6 seconds, according to UNICEF, and it is typically a child under the age of five.
A new documentary by Daniel Karslake, entitled "Every Three Seconds," looks at the tireless work of five very different individuals who are tackling hunger with the skills and resources at their disposal. READ MORE…
GREATER GOOD SCIENCE CENTER
Can Fighting Poverty Make You Happy?
By Jill Suttie, September 11, 2014
Some years ago, filmmaker Daniel Karslake, director of the acclaimed documentary, For The Bible Tells Me So, learned that every three seconds someone around the world—usually a child—dies because of the effects of living in extreme poverty, often from hunger, malnutrition, or disease. When he did the math, he realized that meant about 300,000 people die due to poverty every ten days—as many as had died in the 2004 South Asian tsunami. READ MORE…
CHRISTIAN SCIENCE MONITOR
Daniel Karslake says hunger and poverty can be solved. He's made a film proving it.
By David Karas, Contributor February 7, 2014


Photo by Ann Hermes/Staff
NEWARK, N.J. — Daniel Karslake had heard time and again about the challenges of hunger and extreme poverty experienced around the globe.But it was during an annual event in 2006 at the Chautauqua Institution, a nonprofit adult education center in southwestern New York State, that the true gravity of the social problem became clear to the filmmaker… READ MORE
Gloria Henderson gleans satisfaction from sharing fresh food
By Juan Carlos Piñeiro Escoriaza, TakePart May 5, 2014

Gloria Henderson grew up on a farm, always had a love for picking crops, and noticed from early on that produce would get left behind in the field … READ MORE
CENTRAL FLORIDA LIFESTYLE MAGAZINE
PEACE THROUGH FILM
by Katrina Poggio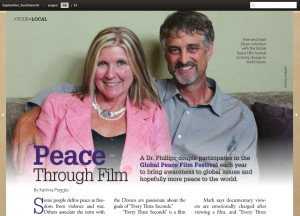 Some people define peace as freedom from violence and war… but peace is much broader than that … READ MORE
ORLANDO WEEKLY
2014 GLOBAL PEACE FILM FESTIVAL
The 21st annual festival brings movies that want to change the world to Orlando … READ MORE
THE CHAUTAUQUAN DAILY
Karslake to present sneak preview of new film Every Three Seconds
By Chad M. Weisman, August 17, 2013
By the time Daniel Karslake finished film school at the University of Southern California, he discovered that he didn't much care for Hollywood. It was the two years he spent working as an intern in now-president Tom Becker's office in the Chautauqua Foundation that would turn him in the direction of his first job raising money for City of Hope, a cancer research center … READ MORE
WILTON ONLINE
Every Three Seconds
By Lois H. Alcosser, January 8, 2010
Every three seconds someone in the world, usually a child, dies in extreme poverty from hunger or a preventable disease. A horrific statistic. Wilton resident Jeanne Robertson wants to put an end to that … READ MORE